Each scout needs a uniform and the appropriate handbook for their rank – Tiger (1st grade), Wolf (2nd grade), Bear (3rd grade) or Webelos (4th+5th grade).  Lions (Kindergartners) are a relatively new program.  Please see this page for Lions: http://pack996.champlearningacademy.com/scout-resource/lion-uniform-handbook/
Where to buy: http://pack996.champlearningacademy.com/stores/
Tip: Going shopping with other families or designating one person to make a shopping run for others can be helpful.  If you have any questions, please contact your den leader.
Class A Uniforms
The Class A uniform is the official dress uniform.  Every scout should have a Class A uniform to wear to all Pack and Den Meetings as well as most Pack events.  For some of our more active Pack events such as hiking, scouts are allowed to wear a Class B uniform.  The Class B uniform is a scout related t-shirt.  Our pack will usually offer a Pack 996 designed Class B shirt each year.  If a scout does not have a scout related t-shirt, a plain t-shirt with no logos can be worn.
Tiger, Wolf, Bear Class A Uniforms: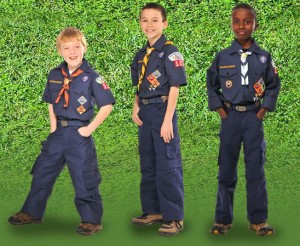 Webelos Class A Uniform: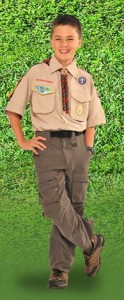 Cub Scout Shirt

Tigers, Bears, and Wolves – blue Cub Scout shirt (short sleeved)
Webelos – tan Boy Scout shirt (short sleeved).  Since this is the same shirt as Boy Scouts, a shirt that is larger than normally worn will allow scouts to use the shirt for a longer time.

Patches for Cub Scout Shirt
Pants/shorts

Pack 996 typically does not require uniform pants or socks – i.e., scouts do not need to purchase official pants at the scout store
Athletic shorts or pants are not allowed. All shorts/pants should have belt loops.
Tigers, Bears, and Wolves – blue shorts or pants; jeans are appropriate for most events
Webelos – olive green shorts or pants if wearing the tan Boy Scout shirt; jeans are appropriate for most events
For some Pack events such as the 4th of July parade and events with Boy Scout troops, jeans are not allowed (each Pack event should clearly state what the uniform requirements are for that event)

Rank Specific Neckerchief
Rank Specific Slide (or one made by the scout)
Rank Specific Hat
Handbooks
In 2015, the Boy Scouts of America updated their program.  Previous books are now obsolete.  The latest handbook for your rank with the wood background is required: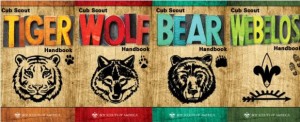 These are the old ones (DO NOT BUY THESE):